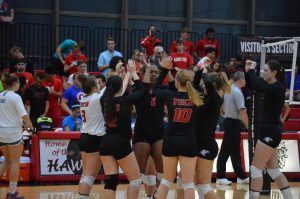 For the first time in program history, Illinois Tech Women's Volleyball has qualified for the United States Collegiate Athletic Association's National Championships.
Illinois Tech will be the sixth seed in the 10-team tournament, which will take place from Thursday, November 10 through Saturday, November 12 in Virginia Beach, Va. All matches will take place at the Virginia Beach Field House.
The Scarlet Hawks have enjoyed the strongest campaign of Head Coach Katie Reifert's three-year tenure in 2016. Illinois Tech has tallied a 5-1 record against USCAA opponents in 2016, with the only loss coming against the tournament's fifth seed, Rochester College, in five sets. The team has compiled a 14-16 overall record and ranks eighth in the USCAA in assists, 10th in kills, and 12th in points.
Tournament format consists of a round of pool play followed by bracket play. Illinois Tech will compete in "Pool B" for the pool play portion of the tournament, which consists of #2 Florida College, #3 Alfred State, #6 Illinois Tech, #7 Carlow University, and #10 NHTI. Pool play will begin on November 10 and carry over into Friday, November 11, with bracket play beginning November 11 as well, and concluding on November 12.
A full tournament schedule for the Scarlet Hawks will be posted on the Illinois Tech Athletics website when made available. All matches will be live streamed (free in standard-definition, $7.95 in high-definition) and live statistics will be available at volleyball.theuscaa.com, which also is the place to go for all championship information.
Prior to heading to Virginia Beach, the Scarlet Hawks will host the American Collegiate Athletic Association Championship sponsored by the Association of D3 Independents on Saturday, November 5. The Scarlet Hawks will oppose Finlandia University at 9 a.m. followed by a matchup with USCAA National Championship Qualifier Alfred State College at 2 p.m. Live audio, video, and statistics will be available for all contests, with the live audio being powered by the Illinois Media School.