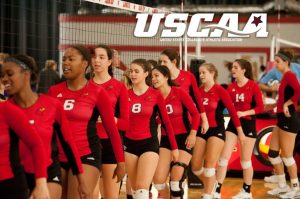 For the second consecutive year, the Illinois Tech Women's Volleyball team will compete in the United States Collegiate Athletic Association's National Championships.
Illinois Tech will be the fourth seed in the 10-team tournament, which will once again take place in Virginia Beach, Virginia, from Thursday, November 9 through Saturday, November 11. All matches will be played in the Virginia Beach Field House.
While relying heavily on a young roster, the Scarlet Hawks have amassed a 15-16 overall record and a 4-4 record against USCAA opponents. Illinois Tech ranks first in the USCAA in block assists, third in kills, and third in assists as of press time.
The tournament format begins with a round of pool play followed by bracket play. Illinois Tech will compete in "Pool A" for the initial portion of the tournament, which consists of four best-of-three matches. Pool play will begin on November 9 and continue on Friday, November 10. The bracket portion of the tournament will begin in the evening on November 10 and wrap up on November 11. Illinois Tech's pool consists of #1 Florida National, #5 Carlow, #9 Maine Fort Kent, and the eighth seed which will be determined at a later date.
A full tournament schedule for the Scarlet Hawks will be posted on www.illinoistechathletics.com when it is made available. All championship matches will be live streamed (free in standard-definition, $7.95 in high-definition) and have live statistics at volleyball.theuscaa.com—the source for all USCAA Championship information.