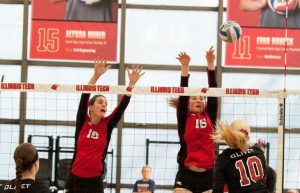 The Illinois Tech Women's Volleyball team has released its 2018 schedule. This year's schedule features 29 total matches: 11 in the Keating Sports Center, and 12 Northern Athletics Collegiate Conference (NACC) contests.
With the Scarlet Hawks competing as full NCAA Division III members for the first time in 2018, first-year Head Coach Mark Johnston is excited about how the new-look schedule enhances the program.
"We have a great schedule this year, including our season-opening trip to Portland for the Oregon Trail Classic," said Johnston. "We are also very excited to be in the NACC, which instantly makes our schedule tougher. I love the challenge that each match will present to our team."
The Oregon Trail Classic will feature four contests in two days for the Scarlet Hawks beginning with matches against Willamette University and Lewis and Clark College on Friday, August 31. The next day, the Scarlet Hawks will take on Linfield College and George Fox University.
The Scarlet Hawks are coming off of a 17-win season and a United States Collegiate Athletic Association Tournament appearance for the second year in a row. All home matches this year are expected to have live audio, video, and statistics. All live audio will be powered by Illinois Media School.