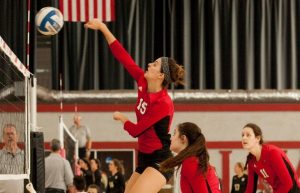 The Illinois Tech Women's Volleyball team trekked to Head Coach Katie Reifert's home state of Ohio on October 28, taking on Earlham College and host Bluffton University. The Scarlet Hawks downed EC 3-1 before falling in straight sets to the hosts, moving to 15-16 on the year.
Scores
Illinois Tech 3, Earlham 1 (15-25, 27-25, 25-17, 25-21)
Bluffton 3, Illinois Tech 0 (21-25, 22-25, 22-25)
Scarlet Hawk Standouts – Earlham Match
Stats to Know – Earlham Match
Illinois Tech won despite being outhit by Earlham .252% to .160%, resulting in 51 Earlham kills and 44 Illinois Tech kills.
Illinois Tech had 13 aces compared to seven for EC.
The Scarlet Hawks had 13 total blocks. EC tallied eight.
Scarlet Hawk Standouts – Bluffton Match
Hassell let the squad with 15 kills. She also had a .179 hit percentage and 13 digs.
Miner continued the strong day with 11 more kills and four block assists.
Freund had another double-double of 30 assists and 11 digs.
Lydia Goebel was the only Hawk with multiple aces (two).
Curcio added another 21 digs.
Stats to Know – Bluffton Match
The Beavers outhit the Scarlet Hawks .172% to .102%.
Illinois Tech out dug Bluffton 56-53.
Up Next
Illinois Tech awaits the announcement of the USCAA Tournament field on Tuesday, October 31. If selected, the Scarlet Hawks will head to Virginia Beach, Virginia, to compete from Thursday, November 9 through Monday, November 13. Illinois Tech was ranked fourth in the latest USCAA Coaches' Poll. A total of 10 teams earn tournament bids. Stay tuned to www.illinoistechathletics.com for the latest.
The Scarlet Hawks will play on October 31 at St. Mary's of Indiana to wrap-up the 2017 regular season. The match is set to begin at 6 p.m.