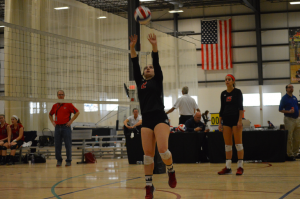 The Illinois Tech Women's Volleyball team competed in two best-of-three matches on November 10 at the USCAA National Championships. The sixth-seeded Scarlet Hawks defeated #10 NHTI 2-0 before falling against #2 Florida College 2-0.
Scores – NHTI Match
Set one: Illinois Tech 25, NHTI 14 
Set two: Illinois Tech 25, NHTI 20
How it Happened – NHTI match
After trailing 3-1 early, the Scarlet Hawks found a second gear. Illinois Tech went on an 8-0  run highlighted by three Irena Grauzinis kills and three Courtney Curcio service aces to build a 9-3 lead.
After an NHTI point, the Scarlet Hawks went on another run, this time 7-0. With a 16-4 advantage, Illinois Tech comfortably held strong the rest of the way, winning 25-14 on another Grauzinis kill.
In the second set, the Scarlet Hawks went up 8-3 behind kills from three different players and some NHTI attack errors. The lead later increased to 14-5 on a Katherine McCutcheon kill.
NHTI would not give up without a fight, going on a 12-3 run to tie the score at 18-18. With the score tied at 20-20, two NHTI attack errors and a Jelena Vujicic kill put Illinois Tech ahead for good. A McCutcheon kill for the 25th point gave Illinois Tech a 25-21 win.
Scarlet Hawk Standouts – NHTI match
Grauzinis continued her impressive season with seven kills and a .583 hitting percentage. She also tied for the team lead in digs with four.
Vujicic (.429%), Taylor Burton (.250%), and McCutcheon (.125%) each added four kills.
Courtney Darling led the way with 18 assists while also contributing two service aces.
Curcio led the team in aces (three) and tied for the lead in digs (four).
Stats to Know – NHTI match
The Scarlet Hawks outhit NHTI .260% to .073% while winning the kills tally 22-14.
Illinois Tech had six aces compared to NHTI's four.
Illinois Tech's 22 assists outdid NHTI's 14.
Scores – Florida College match
Set one: Florida College 25, Illinois Tech 23
Set two: Florida College 25, Illinois Tech 10
How it Happened – Florida College match
The Scarlet Hawks built an early advantage in the first set, leading by three at one point. Alyssa Miner totaled three kills early on in the set.
However, the Falcons of Florida College would respond, rattling off five straight points to take a 16-14 lead. Illinois Tech fought back to tie the score at 23, but two errors to close things out resulted in a Falcon win.
In set two, the teams traded the first six points. After the 3-3 tie, Florida College went on a 6-1 run to build a 9-4 advantage.
A 7-0 run to build a 16-5 lead would give the Falcons a comfortable lead, which the team used to cruise to a 25-10 set two and match win.
Scarlet Hawk Standouts – Florida College match
Burton led the Scarlet Hawks with six kills while also tallying two block assists.
Grauzinis and Miner each tallied five kills.
Darling added 12 assists.
McCutcheon led the team with three blocks.
Reya Green led Illinois Tech with 13 digs.
Stats to Know – Florida College match
Illinois Tech was outhit .353% to .155% by Florida College, including a large .462% to .031% disparity in the second set.
The Falcons had 34 digs compared to Illinois Tech's 25.
The Scarlet Hawks had just one service ace in the match (Cassie Hansen). FC tallied six.
Up Next
The Scarlet Hawks will play two more matches in pool play on Friday, November 11 taking on #3 Alfred State College at 9 a.m. before opposing #7 Carlow University at noon. If the Scarlet Hawks are one of the top four teams in Pool B, Illinois Tech will play a five-set quarterfinal match at either 3 p.m. or 4:30 p.m. Live stats and video links courtesy of the USCAA are scheduled to be available.