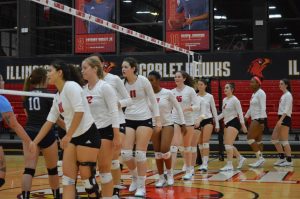 The Illinois Tech Women's Volleyball team faced UC Clermont and Anderson University on day one of the Scarlet Hawk Invite (September 29). The Scarlet Hawks defeated UCC 3-1 before falling to Anderson 3-0. On day two (September 30) they fell to Olivet College and Albion College.
Scores – Day One 
Illinois Tech 3, UCC 1 (20-25, 25-16, 25-9, 25-12)
AU 3, Illinois Tech 0, (22-25, 18-25, 15-25)
Scarlet Hawk Standouts – UCC Match
Stats to Know
It was a balanced afternoon for the Scarlet Hawks, impressive offensively (.242%) and defensively (holding UCC to .017%).
Illinois Tech out dug UCC an astounding 66-35.
Kills were 52-23 in favor of the Scarlet Hawks.
UC Clermont was able to hang around thanks to a strong service game, tallying 11 aces.
Scarlet Hawk Standouts – AU Match
Hassell led the team with 17 kills while tallying nine digs.
Burton had nine kills and a .231 hit percentage with four total blocks.
Freund and Courtney Darling had 14 assists each.
Curcio paced Illinois Tech with 18 digs.
Stats to Know – AU Match
Service errors doomed the Scarlet Hawks, losing 10-0 in the category.
Illinois Tech fell despite a strong defense up front, winning the block battle 12-6.
Kills were even at 35.
Scores – Day Two
Olivet 3, Illinois Tech 0 (15-25, 17-25, 13-25)
Albion 3, Illinois Tech 0 (12-25, 19-25, 14-25)
Scarlet Hawk Standouts – Olivet Match
Darling paced the Scarlet Hawks with 15 assists.
Curcio led the team with nine digs.
Alyssa Miner, Hassell, and Burton all had three block assists. Hassell also contributed 10 kills.
Stats to Know – Olivet Match
Illinois Tech was out hit .215 to -.093.
The Scarlet Hawks out dug Olivet 45-44.
Each team had 12 block assists. The Comets also contributed three solo blocks.
Scarlet Hawk Standouts – Albion Match
Burton was impressive. She tallied 10 kills, five total blocks (two solo, three assisted), and a .333 hit percentage.
Hassell had eight kills and eight digs.
Katherine McCutcheon contributed three block assists.
Stats to Know – Albion Match
Service aces were a major factor, as the Britons recorded 15 compared to just three for Illinois Tech.
Albion out hit the Scarlet Hawks .345% to .130%, leading in kills 40-24.
The Britons won the digs battle 37-27.
Up Next
The Scarlet Hawks will head north to Alverno College in Milwaukee, Wisconsin, on Tuesday, October 3 for a 7 p.m. match.