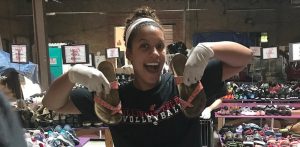 The Illinois Tech Women's Volleyball team volunteered with Share Your Soles in the city's Historic Pullman area.
Share Your Soles has brought more than three million pairs of shoes to desperately impoverished families throughout the world. The program has helped those living on Native American Reservations and in the Appalachias, as well as India, Ecuador, Peru, Haiti, Sri Lanka, Uganda, Cameroon, Nicaragua, Kenya, and Sierra Leone. Share Your Soles has also become very active in disaster relief.
Mark Johnston, Illinois Tech women's volleyball coach, said the team's job was to sort out all of the different donated shoes and put them in their respected places.
"We had to double check to make sure there were a left and right shoe of the same size," Johnston said. "We had to make sure the shoes were in good shape as well."
Taylor Burton, junior middle hitter, said Share Your Soles was an eye-opening experience that shows how certain privileges we have are taken for granted.
"Being able to play a small role with my team to help make a large impact on others is definitely enriching," Burton said. "I would definitely recommend others to reach out and give back.
"I think we really take for granted the fact that we have multiple pairs of shoes for multiple different occasions," Johnston said. "There are so many people around the world that don't even own one good pair. I actually brought in seven pairs from my house that I just don't wear that often. I know somebody else out there can make better use of those!"
Women's Volleyball opened the season on August 31 at the Oregon Trail Classic against Willamette.