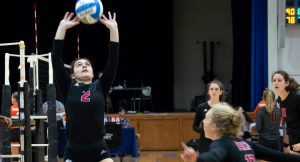 It was a landmark day for Illinois Tech Women's Volleyball at the North Park University Quad on September 8 with the team besting Knox College 3-0. The victory was the first in the Division III head coaching career of Mark Johnston. The Scarlet Hawks also dropped a match to host North Park 3-0 later on in the day.
Set Scores
Illinois Tech 3, Knox 0 (26-24, 25-19, 25-21)
NPU 3, Illinois Tech 0 (15-25, 14-25, 13-25)
How it Happened – Knox Match
Defense was on full display for both teams in set one, particularly the liberos. Knox's Mady Ferris and Illinois Tech's Courtney Curcio each had double-digit digs in the set, with Curcio recording an astounding 16.
Three kills from Taylor Burton (six kills and a .600 hitting percentage in the first set) gave the Scarlet Hawks the edge as the set wound down.
The second set saw the Scarlet Hawks jump ahead 5-1 to establish control. While the Prairie Fire managed to tie things at 14-14, a 4-0 run highlighted by kills from Leah van der Sanden and Mia Phelps propelled the Scarlet Hawks to another set win.
The Scarlet Hawks were even more dominant out of the gate in set three, with two kills by Burton powering a 5-0 run to open play. Knox stayed within striking distance throughout, with a 6-0 run giving the Fire a lead at 21-10.
Alyssa Miner scored three of Illinois Tech's final five points (two aces, one kill). Burton provided the deciding kill to cap off a 5-0, match-ending run for the Scarlet Hawks.
Scarlet Hawk Standouts  – Knox Match
Johnston called this match the team's "best defensive match of the season," so it's no surprise Curcio's numbers jump off the box score. She tallied 31 digs to lead all players, which is also a season-high for any Scarlet Hawk.
Sticking with the defensive trend, Miner was a force at the net with four block assists. She also tallied four kills and an impressive five service aces to go with it.
Burton was Illinois Tech's leader on the attack with 11 kills and a .429 hit percentage.
Allison Wilkins tallied 16 assists to lead the team.
Stats to Know – Knox Match
The Scarlet Hawks outhit the Prairie Fire .090% to .047% while also winning the kills count 34-25.
A combined 147 digs were tallied (76 for Illinois Tech, 71 for Knox).
Aces may have been the real deciding factor in this one, with the Scarlet Hawks outdoing the Fire 13-4.
Scarlet Hawk Standouts – North Park Match
Up Next
On Wednesday, September 12 Illinois Tech will host last year's Northern Athletics Collegiate Conference (NACC) Tournament runner-up and NCAA Division III Tournament Qualifier Aurora University at 7 p.m. in the Keating Sports Center. Live audio, video, and stats will be available. The live audio will be powered by Illinois Media School.