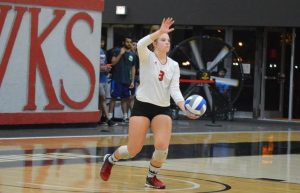 The Illinois Tech Women's Volleyball team played St. Louis College of Pharmacy and Robert Morris-Springfield on October 15 on RMU's campus. The Scarlet Hawks won both contests.
Scores
Illinois Tech 3, St. Louis Pharmacy 2: (25-11, 26-24, 20-25, 20-25, 16-14)
Illinois Tech 3, RMU-Springfield 1: (16-25, 25-19, 25-14, 26-24)
Scarlet Hawk Standouts – RMU Springfield Match
A more in-depth recap will be provided at www.illinoistechathletics.com when additional stats from the matches become available.
Up Next
The Scarlet Hawks will take on Moody Bible on the road on Wednesday, October 19. Match time is set for 7 p.m.