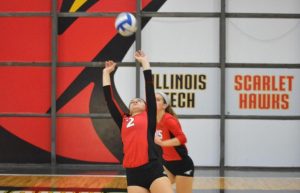 The Illinois Tech Women's Volleyball team hosted the second and final day of the Scarlet Hawk Invite on October 1 in the Keating Sports Center. The Scarlet Hawks won a pair of matches, defeating UC-Clermont in straight sets before a four-set win over Eureka College. The Scarlet Hawks now have an 8-10 record on the season.
Scores
Illinois Tech 3, UC Clermont 0 (25-16, 25-9, 25-18)
Illinois Tech 3, Eureka 1 (27-25, 22-25, 25-17, 25-17)
How it Happened – UC Clermont
The Scarlet Hawks hit an impressive .225% in the first set en route to a 25-16 win. Illinois Tech jumped out to a 7-3 lead before UC Clermont inched closer to tie things at 11. An 8-1 run then propelled the Scarlet Hawks to the set win.
In set two, an impressive second half of the set put the Scarlet Hawks in position to coast to a win. After leading 7-5, the Scarlet Hawks outscored UC Clermont 18-4 for the remainder of the set.
The third and final set was a set of runs. After a 10-4 lead to start off for the Hawks, UC Clermont went on a 5-0 run to pull to within one. The Scarlet Hawks would respond with nine straight points to roll to the match win.
How it Happened – Eureka
The first set was the tightest one of the match, but things did not start that way. After a 3-0 lead to begin the match for the Hawks, Eureka rattled off six straight points to lead 6-3. After managing to tie things back up at 10, the Scarlet Hawks would seize control, building a 20-15 advantage after a 6-0. However, the Red Devils would persevere, tying things back up at 24 and then at 25 after a Courtney Darling kill gave Illinois Tech a one point lead. To close out the match, an Irena Grauzinis kill and Eureka miscue gave the Scarlet Hawks the 27-25 win.
Set two was also close, but it was Eureka who prevailed this time. Holding the Scarlet Hawks to a hitting percentage of .000, the Red Devils built a 20-12 lead before holding off an Illinois Tech comeback to win 25-22.
The Scarlet Hawk attack managed to turn things around in the third set, hitting a match-high .324%. Never trailing in the set, two of Illinois Tech's final four points came courtesy of kills from defensive specialist Courtney Curcio.
The fourth and final set saw Illinois Tech build a 19-9 advantage. Eureka managed to pull to within five late, but an attack error gave the Scarlet Hawks the 25th and final point of the set for a match win.
Scarlet Hawk Standouts
Grauzinis had another impressive day in the kills department, totaling 42 for the day (19 vs. UC Clermont, 23 vs. Eureka). She also tallied 25 digs and three aces.
Darling managed 68 assists, five aces, and 27 digs on the day. Four of her five aces came against Eureka, tying for a team high in the match.
Curcio had one of her best statistical days as a Scarlet Hawk, leading the team in digs in both matches. She combined for 50 on the day (20 vs. UC Clermont, 30 vs. Eureka).
Katherine McCutcheon led the team with five blocks on the day (all assisted). Four of those came against Eureka.
Alyssa Miner totaled 13 kills and had four aces in each match.
Stats to Know
Illinois Tech held UC Clermont to a .008 hitting percentage.
Illinois Tech tallied an impressive 11 aces against UC Clermont while holding the opponent to just one.
The Scarlet Hawks tallied 13 more kills than Eureka, winning the category 57-44.
Both Illinois Tech and Eureka recorded eight blocks (all assisted).
Up Next
The Scarlet Hawks will compete in a four-match tournament at St. Mary of the Woods on Friday, October 7 and Saturday, October 8. Illinois Tech is set to oppose St. Mary of the Woods (2p.m.) and Rochester (4 p.m.) on October 7 before squaring off against Berea (9 a.m.) and Wright State-Lake (11 a.m.) on October 8. All times listed are central time.