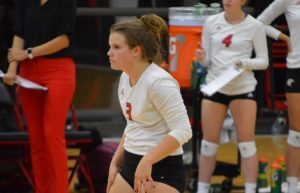 The Illinois Tech Women's Volleyball team competed in the two-day USCAA Quad at Keating Sports Center October 20–21. The Scarlet Hawks were defeated by St. Mary of the Woods 3-1 on day one, but swept both matches against Robert Morris-Springfield and Silver Lake on day two.
Scores
SMOW 3, Illinois Tech 1 (9-25, 14-25, 25-22, 15-25)
How it Happened – St. Mary of the Woods
The Pomeroys impressed from the get-go, dominating set one with a .303 hit percentage compared to -.083 for Illinois Tech.
In set two, the Scarlet Hawks were able to establish some offense and limited attack chances for SMOW, but the visitors still hit at a .276% clip en route to a 2-0 lead.
In set three the tide turned for the Hawks. After SMOW had a 3-2 lead, the Scarlet Hawks used a 4-0 run to jump ahead and never looked back. Katie McCutcheon iced the set with a kill for the win.
The Scarlet Hawks were able to hang close in set four, taking a 14-13 lead before a huge SMOW run closed the night out. The Pomeroys scored 12 of the last 13 points, hitting .545% for the set.
Scarlet Hawk Standouts
Stats to Know
SMOW hit an impressive .305% and outdid Illinois Tech in aces 11-3.
Illinois Tech is now 11-15 on the season.
SMOW moved to 10-11.
How It Happened – RMS Match
Robert Morris-Springfield started well, beginning the match with three unanswered points. Illinois Tech countered quickly to build a 15-10 lead behind five straight serves from Courtney Darling. Reya Green closed out the set for the Scarlet Hawks with nine straight serves and Illinois Tech won 25-11 Sara Hassell led the Hawks with five kills.
Illinois Tech came out strong to begin the second set. After trading points to start, Illinois Tech broke out to an 11-2 lead before the Eagles called timeout. Robert Morris-Springfield closed the gap to 14-7 after solid serving from Marissa O'Keefe and a couple Scarlet Hawks errors, but Illinois Tech controlled the rest of the set from behind the service line with Darling and Curcio. Miner had four kills in the set en route to another 25-11 win.
The Scarlet Hawks controlled the third set from the beginning and never trailed. Leah van der Sanden and Miner added some key kills for Illinois Tech while Hassell went on an eight-serve run with three aces to put the set and the match away for Illinois Tech. The Scarlet Hawks took the set and match with a 25-15 victory.
Scarlet Hawk Standouts
Hassell had eight kills, five aces and six digs.
Miner had 10 kills with a .750 attack percentage.
Burton led the Scarlet Hawks with 11 kills with a .450 attack percentage.
Curcio added 18 assists.
Stats to Know
Overall attack percentage was in favor of Illinois Tech (0.287 to -.068).
Illinois Tech led in kills 36-13.
The Scarlet Hawks led 11-4 in serve aces.
Illinois Tech also led in assists (32-12).
How It Happened – SLC Match
Silver Lake managed to score the first point of the match. After that, Illinois Tech burst out for 21 straight points behind great serving from Green. Hassell had six kills during that stretch. After one more point for Silver Lake, Freund served out the set for a 25-2 win.
Freund continued her strong serving to begin the second set with five straight successful serves. Hannah Severin contributed two serves and a kill to keep the Lakers within three at 11-8, but the Hawks began another long run behind Curcio and Green. Lydia Goebel also got going with three kills down the stretch and the Hawks won 25-11.
The third set was dominated by Miner, who had 12 straight serves to get Illinois Tech out to a 15-2 lead. Burton totaled six kills in the set, including the match and set point. Darling closed out the Lakers with five straight serves for a 25-4 win for the Scarlet Hawks.
Scarlet Hawk Standouts
Burton led the Hawks with nine kills on a .571 attack percentage.
Goebel and Miner both added eight kills.
Hassell also had six kills with a team-leading .857 attack percentage.
Green had five aces in her last home match.
Stats to Know
Total kills (36-7) and attack percentage (.446 to -.264) favored Illinois Tech.
Illinois Tech had three blocks to none, as well as four block assists to none for Silver Lake.
Serve aces were in favor of Illinois Tech 14-0.
Illinois Tech had 21 assists while Silver Lake had six.
Up Next
Illinois Tech will travel to take on Moody Bible on Tuesday, October 24 at 7 p.m.