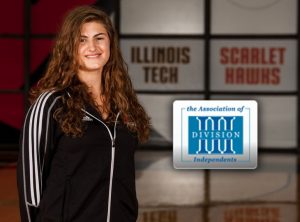 The Association of Division III Independents recently recognized Jamie Wurster with the Women's Swimmer of the Month Award. It is the first time she has received the honor in her career.
A native of Chelsea, Michigan, Wurster won several races over the course of the month. To open January's regular season schedule she placed first in the 100 Yard Backstroke (1:05.81) and the 50 Yard Freestyle (26.65s) against Lawrence on January 13. The sophomore also finished in first place with a time of 56.95 seconds in the 100 Yard Freestyle at Carroll on January 20.
The Scarlet Hawks will now head to the Liberal Arts Conference Championships, which will take place at Luther College in Decorah, Iowa. The four-day event begins on Wednesday, February 14 at 7 p.m., followed by 10 a.m. preliminaries and 6 p.m. finals times on each of the next three days. Stay tuned to www.illinoistechathletics.com for news and links to any live coverage of the LAC Championships.