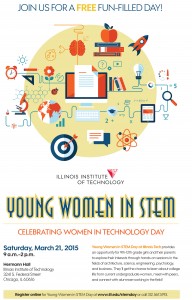 On Saturday, March 21, from 9 a.m.-3 p.m. in Hermann Hall, Illinois Institute of Technology's Student Center for Diversity and Inclusion is hosting young women from Chicago-area high schools for a day of hands-on science, technology, engineering and mathematics (STEM) programming and educational sessions.
Young Women in STEM Day at Illinois Tech provides an opportunity for ninth-12th grade girls and their parents to explore their interests through hands-on sessions in the fields of architecture, science, engineering, psychology, and business. They'll get the chance to learn about college life from current undergraduate women, meet with peers, and connect with alumnae working in these fields..
Contact scdi@iit.edu with any questions.
To volunteer for this event, click here.
This event reflects the values expressed in IIT's Diversity Statement and is intended to promote diversity at IIT.