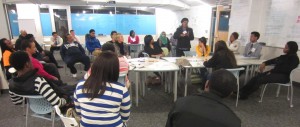 Last Saturday, nearly fifty people of various ages and backgrounds met at the Idea Shop for a "Youth Against Gun Violence" design thinking workshop.
The event was organized by four IIT Boeing Scholars as part of their Leadership Grant Project*, "Target Future." Alarmed by the rate of homocides in the city and armed with the belief that youth have valuable perspective and ideas on these issues, Target Future reached out to Professor Jeremy Alexis and doctoral student Amanda Geppert, both of the Institute of Design, to provide teens with an opportunity to develop innovative solutions to these issues.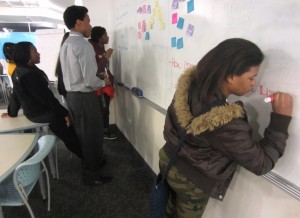 At Saturday's workshop, Alexis and Geppert guided 24 teens from 18 high schools through the "design thinking" process to brainstorm, develop, prototype, and propose ways to address the gun violence problem. At the conclusion of the event, students presented their work to the following community leaders, who were happy to listen to, discuss, and provide feedback on the teens' ideas:
*Pat Dowell, Alderman, 3rd Ward
*Beth Ford, Deputy Director, Bureau of Patrol, Chicago Police Department
*Anterio Jackson, Education Program Coordinator, Chicago Urban League
*Shango Johnson, CeaseFire Illinois
*Melinda Kelly, Executive Director, Chatham Business Association
*Diane Latiker, Founder and President, Kids Off the Block
*Benneth "Benny" Lee, Community Liaison and Reentry Specialist, TASC; Northeastern Illinois University, Carruthers Center for Inner City Studies
*Samia Malik, Project Manager, Chatham Business Association
*Shauna Martin, Founder & Director, The Society of Lights, Inc.
*Monica Moss, Trinity Church
*Brian Thompson, Assistant Executive Director, PSI Family Services Foster Care and Mental Health; Founder, B-Fit, B New, 4 Life
*Mae Cheri Whiteside, Principal, Cheri K. Lewis Engineers, LLC
*Mandel Williams, Executive Director, Knights of Omega Mentoring
Special thanks to IIT's Jeanne Arens, Jerry Doyle, Leroy Kennedy, and Lisa Montgomery for reaching out on Target Future's behalf to get such an amazing group of people in the room.
A summary of students' ideas from Saturday, as well as pictures from the day, can be found on the program blog. Please feel free to join the continuing conversation.
*During the summer, IIT Boeing Scholars collaborate in teams to propose Leadership Grant Projects of their own design to be implemented over the course of the next 10 months (July-April), with the help of volunteer Project Mentors. A capstone of sorts, LGPs empower students to promote positive change and create opportunities in their communities.
---
This event reflects the values expressed in IIT's Diversity Statement and is intended to promote diversity at IIT.