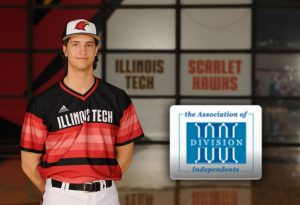 The Association of Division III Independents recently named Illinois Tech Baseball's John Zalewski Player of the Week.
Illinois Tech starting pitchers threw three consecutive complete games in a two-day span in Florida last week, with Zalewski being one of those arms. In a 1-0 win against Fitchburg State on March 16, the Chicago native went the distance in the seven-inning contest, striking out eight while allowing just three hits and two walks. The shutout also included a stretch of six straight hitters who were sent down swinging.
The Scarlet Hawks are slated to open the home schedule on Saturday, March 24 at noon with a doubleheader against Milwaukee School of Engineering at Ed Glancy Field. Live audio, video, and statistics will be available. The live audio will be powered by Illinois Media School.