At the first IIT Sustainability Forum of the fall semester, held last Friday in the MTCC, the Illinois Recycling Association (IRA) presented the university with their annual Outstanding College/University Recycling Program of the Year award. The IRA award is given to the Illinois college or university that achieves the highest rank in the RecycleMania, a friendly national competition and benchmarking tool for college and university recycling programs to promote waste reduction activities to their campus communities. In its first year competing in RecycleMania, IIT out-recycled all of the other 18 participating Illinois schools, achieving a cumulative recycling rate of 35.39%.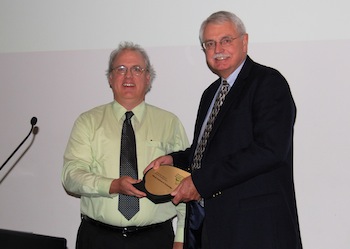 Accepting the award from IRA Executive Director Mike Mitchell, Vice President for Business and Administration John Collins thanked IIT students, faculty, and staff for their efforts in establishing and maintaining an excellent recycling program in such a short time period. "To have gone from basically no recycling program three years ago, to this point, is something we all should be proud of," said Collins, who also singled out Facilities Operations Manager John Sebby for his efforts in making IIT's recycling program the best among Illinois universities. The physical award presented to Collins is a handsome plaque made entirely from paper stone, a granite-like material made from 100% recycled paper.
The award ceremony followed a presentation by Director of IIT Campus Energy and Sustainability Joseph Clair and a panel discussion with Mitchell, Recycling Services' Bernadette McMahon, and The Green Chicago Restaurant Co-op's Andrew Weithe, who discussed recycling strategies, communication, and took questions from the audience of students, faculty, and staff. Download and view Clair's forum presentation here.
The Office of Campus Energy and Sustainability presented its own Excellence in Campus Sustainability Awards, for the first time, at the forum, recognizing "demonstrated dedication above and beyond the requirements of their position to making the Illinios Institute of Technology the most sustainable urban university campus in the U.S." John Sebby was recognized "for his work in significantly increasing the university recycling rate," and Maureen Sertich was recognized "for her work in establishing the Office of Campus Energy and Sustainability and her work on the Campus Sustainability Plan." Sertich served as Sustainability Program Support Manager while pursuing her MBA in Sustainabile Enterprise from IIT Stuart School of Business, and is President of Sustainability Consultants, Inc.