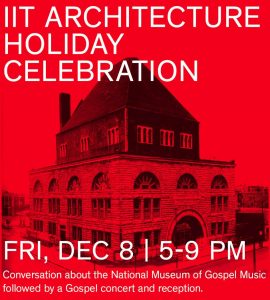 Please join the College of Architecture on Friday, December 8 from 5–9 p.m. in S. R. Crown Hall for an evening of conversation about the National Museum of Gospel Music on the former site of Pilgrim Baptist Church in Bronzeville, followed by a Gospel concert and reception.
Click here for full program and list of presenters and performers.
RSVP here by Monday, December 4.
Parking is free. Lots D-1, D-2 and D-5 are closest to S. R. Crown Hall. View a parking map here.
This event is co-organized by the College of Architecture and the Mies van der Rohe Society.