Date: Wednesday, August 24, 2022
Time: Program starts at 3:30 p.m. with reception immediately following
Location: Siegel Hall, Rm. 310 (Kaplan Suite) / 3301 S. Dearborn Street
Event Registration: Click here.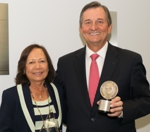 Through the generosity of Lorna and Adrian Nemcek (EE '70), the Department of Electrical and Computer Engineering is providing state of the art lab experiences for students and helping power the difference at Illinois Tech's Armour College of Engineering.
Contact rsvpevents@iit.edu for questions.