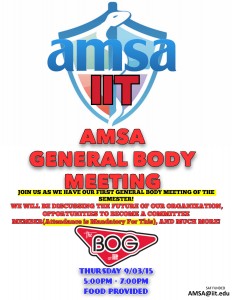 Are you considering a career in medicine? Have questions about what you need to do? Want to meet your fellow pre-meds? Join the American Medical Students Association (AMSA) as they host their first general body meeting of the semester on Thursday, September 3, from 5-7 p.m. at the BOG.
The meeting will discuss the future of the organization, opportunities to become a committee member, a chance to be added to the AMSA mailing list, and more.
If you are interested in becoming a committee member, attendance is mandatory.