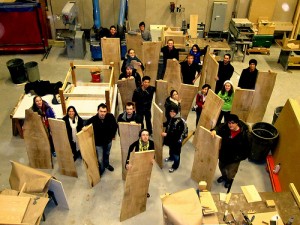 A single local tree, downed during a violent storm that struck Chicago in 2011, lives on in Idea Tree, an inspired exhibit of fresh ideas in furniture and accessories design. The Idea Tree exhibit is organized and sponsored by Sawbridge Studios, in collaboration with IIT and Horigan Urban Forest Products.
Following a successful 1-month run earlier this summer at Chicago's Inland Steel Building, the entire exhibit now moves to the Chicago Center for Green Technology where it will be displayed September 6 through October 12, 2012.
Since January, IIT Architecture Professor Paul Pettigrew focused on the distinct relationship between architecture and furniture design with his students. Using wood from a single, storm-felled Chicago-area tree as core material, provided by Horigan Urban Forest Products, each student began the process of designing and creating a furniture piece, as well as a small accessory item. Along the way, students were mentored by select Sawbridge Studios craftsmen and furniture makers, providing input and suggestions on how to best bring their deas to life. From there, a panel of expert judges comprised of Jan Parr, former Editor of Chicago Home + Garden Magazine, Matt Seiler, President of the Chicago Furniture Designers Association, Gunny Harboe, FAIA, President of Harboe Architects, and Lloyd Natof of SL Natof Design (great-grandson of Frank Lloyd Wright) reviewed the completed pieces to determine Best in Show, with all 40+ furniture and accessory creations part of the Idea Tree exhibit.
Now celebrating its 10th year, the Chicago Center for Green Technology is located at 445 North Sacramento Boulevard, Chicago. The Idea Tree exhibit is free of charge and open Monday, Wednesday & Friday 9am – 5pm, Tuesday & Thursday 9am – 8pm and Saturday 9am – 4pm.
About Sawbridge Studios:
Idea Tree is an on-going effort by Sawbridge Studios to encourage innovation in American artistry and craftsmanship. Headquartered in a converted 1880s livery stable at 1015 Tower Court, Winnetka, Illinois, Sawbridge Studios features the works of over 80 individual, one-of-a-kind craftsmen, artisans and furniture makers from around the country, and has become the largest retail source in the U.S. for handcrafted, American-made furnishings and accessories.
About Chicago Center for Green Technology:
The Chicago Center for Green Technology (CCGT) is the first rehabilitated municipal building in the nation to receive the LEED® Platinum rating from the U.S. Green Building Council. Former Mayor Richard M. Daley dedicated the building in 2002 and it has now become a national model for sustainable design and technology. The Center serves as the most comprehensive green design educational resource in the Midwest, working to promote and advance sustainable homes, workplaces and communities to enhance the quality of urban life.
6791130781_f4ea497573.jpg (162 KB)