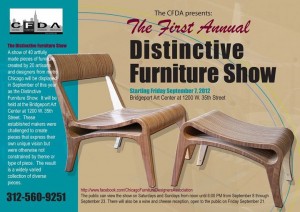 Architecture Adjunct Associate Professor John Kriegshauser's furniture designs are featured in the Distinctive Furniture Show, presented by the Chicago Furniture Designers Association (CFDA).
The Distinctive Furniture show includes 40 artfully made pieces of furniture, created by 20 artisans and designers from metro Chicago, and is being held at the Bridgeport Art Center at 1200 W. 35th Street. These established makers were challenged to create pieces that express their own unique vision but were otherwise not constrained by theme or type of piece. The result is a widely varied collection of diverse pieces.
The public can view the show on Saturdays and Sundays from noon until 6:00 pm from September 8 through September 23. There will also be a wine and cheese reception, open to the public on Friday September 21.