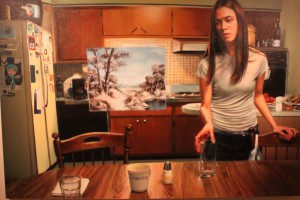 SmallRoom and Paul V. Galvin Library are pleased to present, On the Fringe, an exhibit which showcases the art work of Jennifer Cronin and Sara Goldenberg White. Cronin was selected by SmallRoom, an IIT student organization, for her large, expressive paintings which display a meshing of mundane and extraordinary. Goldenberg White pursues a similar vein, and by mixing traditional methods of production with unique materials, she produces compelling works. Together they contribute to a show that subtly tweaks what is familiar (be it a setting or a material), and will enlighten the viewer to a new reality, space or texture. See artist statements and more at www.jennifercronin.com and www.saragoldenbergwhite.com.
On the Fringe will run until Wednesday, January 30 in the Kemper Room, located on the upper level of Galvin Library. Please join us for a reception in the Kemper Room on Thursday, January 17 from 3:00–5:00 pm.
Though it's no substitute for seeing it in person, you can view a 360-degree view of the gallery here.