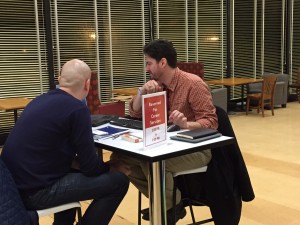 There are new hours for IIT's Career Corner, Career Services Evening Advising Sessions. They will be held Tuesdays and Thursdays in Galvin Library, upper level (north side), from 3:30-8 p.m.
The IIT Career Management Center is launching a new supplemental evening program to assist students in career readiness and their post-graduation job searches. Career Development Coach W. David Work (PS '13) will be regularly available at the Career Corner, located at a reserved table in the northeast corner of Galvin Library upper level in the library's group collaboration area, to advise students on best practices for optimal post-graduation career placement. These sessions take place Tuesday and Thursday nights from 3:30-8 p.m.
Advising services include: résumé editing and proofreading; coaching on personal presentation and networking techniques; identifying viable career goals based on applicant background; targeted industry and position research; and informational resources available exclusively to IIT students and alumni.
IIT students and alumni are invited to either schedule an advisory appointment or meet David Work on a walk-in basis. Students are encouraged to make appointments via email at wwork@iit.edu; walk-ins will be met on a first-come, first-served basis.
David Work is an Illinois Tech alumnus, Presidential Scholar, and transfer-graduate of Harold Washington College, one of the City Colleges of Chicago. He is trained by the National Résumé Writers' Association and has work experience in a wide range of fields, including civil engineering, professional writing, academic research, web content and social media management, and secondary and post-secondary education. His curriculum vitae includes coursework in social sciences, architecture, and project data management in Geographic Information Systems (GIS).