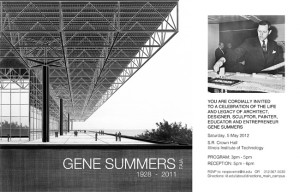 IIT College of Architecture invites you to celebrate the life and legacy of architect, designer, sculptor, painter, educator and entrepreneur Gene Summers at 3 pm on Saturday, May 5 in S. R. Crown Hall.
Gene Summers, FAIA, a graduate of IIT and close colleague of former director Ludwig Mies van der Rohe, accepted the position of dean of the College of Architecture, Planning and Design at the Illinois Institute of Technology in the spring of 1989. Although strong-minded, Gene was known for his modesty as well as his prolific creativity and drive. He was a role model for many, welcoming former students and colleagues to his home in Northern California following his deanship at IIT. Gene Summers died in December 2011 at the age of 83.
To RSVP, please contact Lauren Shelby at 312.567.5030 or rsvpevents@iit.edu.
Gene Summers Celebration Planning Committee
Dirk S. Denison (B.ARCH '83, MBA '85)
Holly Hunt
Helmut Jahn (ARCH '67)
Robert D. Kleinschmidt
Phyllis B. Lambert (M.S. ARCH '63)
Donna Robertson, College of Architecture dean and John and Jeanne Rowe Endowed Chair in the College of Architecture