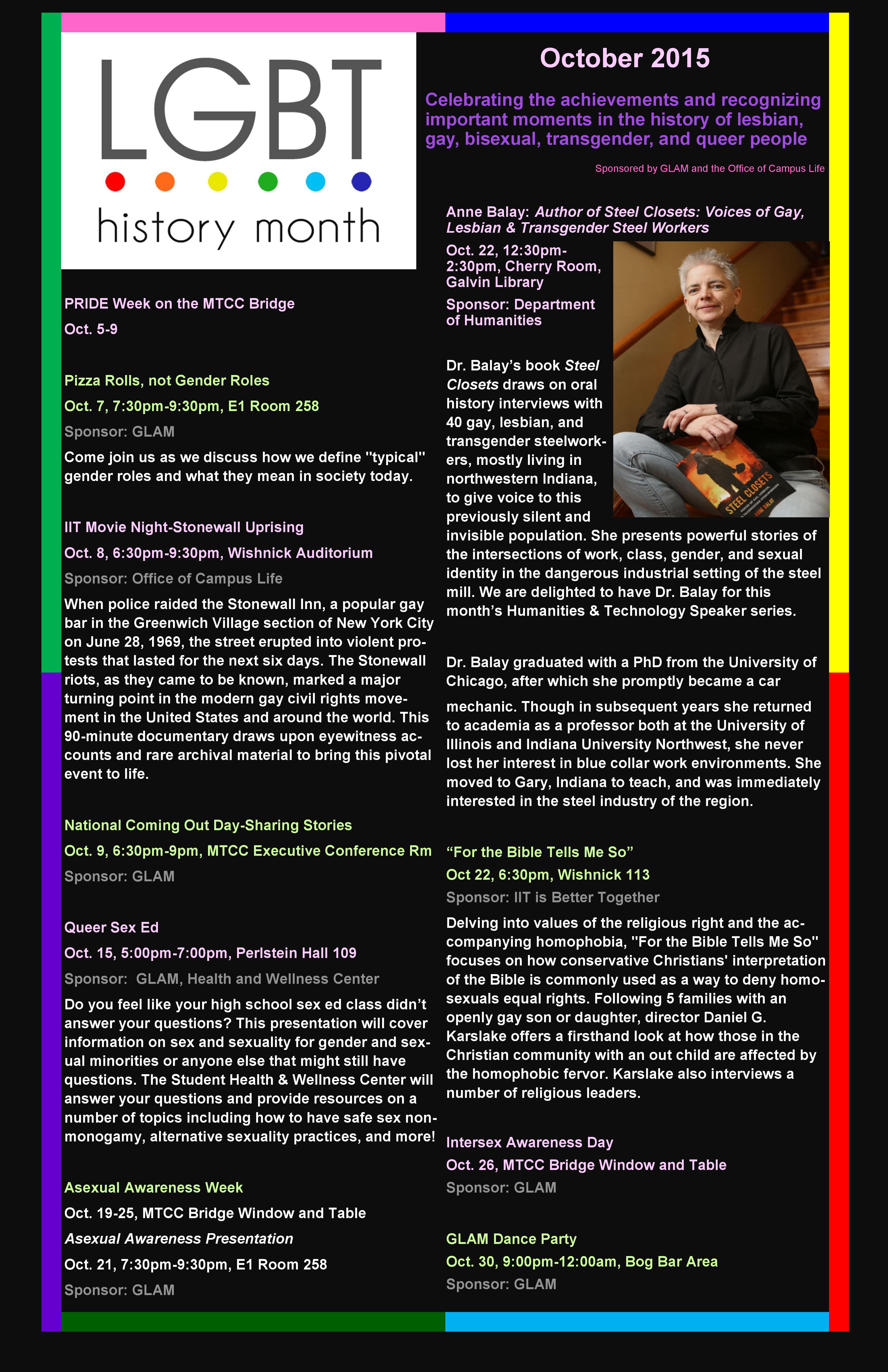 In observance of LGBT History Month, the following events will take place across campus in the month of October:
Asexual Awareness Week
Monday, October 19 through Sunday, October 25, The McCormick Tribune Campus Center (MTCC) Bridge window and table
Asexual Awareness Presentation
Wednesday, October 21, 7:30-9:30 p.m., The John T. Rettaliata Engineering Center, Room 258
Sponsor: Gays, Lesbians, Allies and More (GLAM)
Anne Balay: Author of Steel Closets: Voices of Gay, Lesbian and Transgender Steel Workers
Thursday, October 22, 12:30-2:30 p.m., Cherry Room, Galvin Library
Sponsor: Department of Humanities
Balay's book Steel Closets: Voices of Gay, Lesbian & Transgender Steel Workers draws on oral history interviews with 40 gay, lesbian, and transgender steelworkers, mostly living in northwestern Indiana, to give voice to this previously silent and invisible population. She presents powerful stories of the intersections of work, class, gender, and sexual identity in the dangerous industrial setting of the steel mill. We are delighted to have Balay for this month's Humanities & Technology Speaker series. Balay graduated with a Ph.D. from the University of Chicago, after which she promptly became a car mechanic. Though in subsequent years she returned to academia as a professor both at the University of Illinois and Indiana University Northwest, she never lost her interest in blue collar work environments. She moved to Gary, Ind. to teach, and was immediately interested in the steel industry of the region.
For the Bible Tells Me So
Thursday, October 22, 6:30-9:30 p.m., Wishnick Hall Auditorium
Sponsor: IIT is Better Together
Delving into values of the religious right and the accompanying homophobia, For the Bible Tells Me So focuses on how conservative Christians' interpretation of the Bible is commonly used as a way to deny homosexuals equal rights. Following five families with an openly gay son or daughter, director Daniel G. Karslake offers a firsthand look at how those in the Christian community with an out child are affected by the homophobic fervor. Karslake also interviews a number of religious leaders.
Intersex Awareness Day
Monday, October 26, MTCC Bridge window and table
Sponsor: GLAM
GLAM Dance Party
Friday, October 30, 9-midnight, The BOG
Sponsor: GLAM
These events reflect the values expressed in IIT's Diversity Statement and are intended to promote diversity at Illinois Tech.