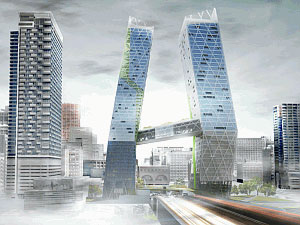 Chicago Architecture Foundation's new exhibit opening on June 22 features College of Architecture undergraduate and graduate studio work. Unseen City: Designs for a Future Chicago tackles the question, "What might this neighborhood and city become?" Designs include a 19th century boulevard transformed for the 21st, a horizontal deconstructed Willis Tower, an industrial district as creative hub, and a skyscraper that scrubs the air.
IIT exhibits:
Hi-Rise, Lo-Carb
Illinois Institute of Technology/Council on Tall Buildings and Urban Habitat/Adrian Smith + Gordon Gill Architecture (Spring 2012 undergraduate studio, Studio Associate Professor Antony Wood)
Garfield Boulevard: Completely Stripped Naked, Dirty, and Wet
Illinois Institute of Technology (Fall 2011 graduate studio, Assistant Professor Marshall Brown)
For more information, visit the Chicago Architecture Foundation website.