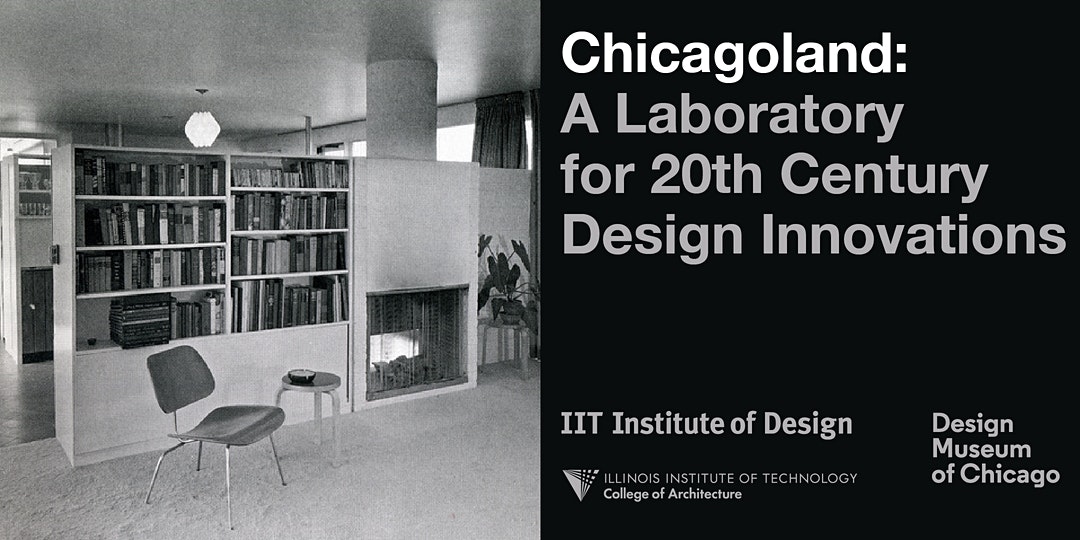 Experts reveal the overlaps in design ideas and approaches among creatives who called Chicago home over the past 100 years.
About this Event
Thursday, December 10, 5–6 p.m.
Click here to register.
A look back at midcentury on the occasion of the publication of Modern in the Middle: Chicago Houses 1929–1975 and Jay Doblin's 100th birthday. From buildings to materials and products to people, panelists will discuss how principles of democratization and sustainability have become increasingly important today. Discover how the built and lived domestic environment—where we spend so much of our COVID time—has become what we recognize, and Chicago's important role in defining our surroundings. Experts reveal the overlaps in ideas and approaches among creatives who called Chicago home over the past 100 years. Presented by the Design Museum of Chicago, IIT College of Architecture, and IIT Institute of Design (ID).
About the panelists:
• Aamena Ansari (MDes 2021), moderator, is a second-year student in ID's Foundation + MDes program. She has a background in Communication and Culture Studies from Indiana University and experience working as a facilitator between siloed departments and institutions. She's fascinated by our framing of the other, the language, and artifacts that shape our realities, and how this feeds into our collective response to a changing climate.
• Michelangelo Sabatino, Ph.D. is co-author of Modern in the Middle (The Monacelli Press, September 2020) and Professor and Director of the Ph.D. program at the IIT College of Architecture and John Vinci Distinguished Research Fellow. An educator, academic administrator, curator, and award-winning scholar, Sabatino has shaped discourse and practice in the Americas and beyond.
• Martin Thaler is Studio Professor at IIT Institute of Design. Keenly interested in the fundamentals of design, Thaler contributed to ID's collaborative research project with Fortune magazine, "100 Great Designs of Modern Times," which undertakes Jay Doblin's original study 60 years later. He is also co-author of 101 Things I Learned in Product Design School (Crown, October 2020).
• Marcia Weese is an award-winning interior designer and artist. Whether space planning, designing rugs and furniture, or making art, Weese creates dynamic and restorative environments. Exposure to these intersecting worlds came early. She grew up in Chicago surrounded by the work of her father, modernist architect Harry Weese, her mother, interior designer Kitty Baldwin Weese and their cadre of friends including Alvar Aalto, Eero Saarinen and Charles and Ray Eames.
• Bud Rodecker, founder and design director at SPAN, designed Modern in the Middle. Rodecker was a designer and later a partner at Thirst from 2005 to 2019. His work with Thirst has been displayed in the Venice Architectural Biennale, the Chicago Cultural Center, and Typeforce, published in various publications including Graphis, Concept Magazine Indonesia, IdN Magazine, and Slanted, archived in The Chicago Design Archive, and recognized by the STA 100, Design Observer 50 Books 50 Covers, and Graphis. Outside the studio, Rodecker explores the process of creativity through self-initiated experiments and teaching design at DePaul University.