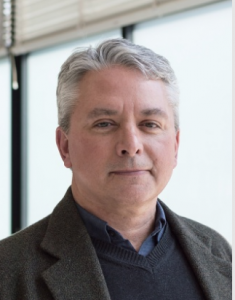 Scott Mehaffy, adjunct professor at the Illinois Tech College of Architecture, has been selected as executive director of the Farnsworth House, a National Trust Historic Site located in Plano, Illinois. Mehaffey assumed his new role on April 2.
"We are thrilled to welcome Scott as we continue the preservation and evolution of Farnsworth House," said Katherine Malone-France, vice president for Historic Sites at the National Trust for Historic Preservation. "Scott brings energy, enthusiasm and a strong desire to expand Farnsworth House programs and outreach at the local, national, and international level, along with many years of practical experience managing and developing historic properties."
First conceived by world-renowned architect Mies van der Rohe in 1945 and completed in 1951, the Farnsworth House is an icon of modern architecture and continues to inspire artists and designers around the world. Built as a country retreat for Edith Farnsworth, the house is a building of white-painted steel and glass, which stands in striking contrast to its naturalistic setting. Located in a floodplain landscape along the Fox river, the setting is integral to Mies van der Rohe's aesthetic conception and continues to be managed and developed as the house is restored and interpreted.
"I am looking forward to guiding this internationally renowned historic site into its next phase of development, as we work to protect and maintain Farnsworth House and its setting for the coming generations," said Mehaffey. "It's an honor to work for The National Trust, and I am particularly impressed by their dedication to preserving the site's historic integrity in the face of a changing climate."
Mehaffey has an impressive 30-year career history of public- and private-sector leadership focused in the Chicago area. Former positions with The Morton Arboretum and the City of Chicago have included historic site management, strategic planning and development, and community outreach and programming. In addition, he teaches graduate level courses in Modernism and the Prairie School at the College of Architecture. Most recently, Scott headed his own landscape architecture firm based in Flossmoor, Illinois, and led efforts to revitalize the historic commercial district in Princeton, Illinois.
Born in Princeton, Illinois, – a small town not unlike Plano – Mehaffey has lived and worked throughout the Chicago area since 1988. He holds a Bachelor of Landscape Architecture from the University of Illinois College of Fine and Applied Arts and a Master of Science in Organizational Leadership from Dominican University. He has been active in the fields of cultural landscape preservation and architectural history, and is a frequent speaker, writer and tour guide on these subjects. He has also held leadership positions with the American Public Gardens Association and the American Society of Landscape Architects.
Farnsworth House has been owned by the National Trust for Historic Preservation since 2003 and operated by the organization since 2010, and is one of 27 historic sites in the organization's national portfolio of historic sites that are open to the public. Other Modernist sites owned by the National Trust include Philip Johnson's Glass House in New Canaan, Connecticut; the Marcel Breuer House at Pocantico in Pocantico Hills, New York; and Frank Lloyd Wright's Pope-Leighey House in Alexandria, Virginia. The National Trust continues to work closely with Landmarks Illinois, which holds an easement on the property, on flood mitigation due to the rising Fox river while maintaining the integrity of Mies van der Rohe's design and its essential relationship to the river.
The Farnsworth House now welcomes over 15,000 visitors per season, and hosts a variety of tours, programs and special events both on- and off-site. Tours are offered Tuesday-Sunday from April through November and may be booked at farnsworthhouse.org.