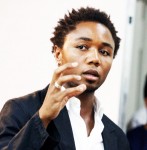 College of Architecture Associate Professor Marshall Brown will be one of the featured speakers on a Chicago Architecture Biennial panel, "Chicago in Photography: Documented, Imagined, Abstracted and Re-Made," on Tuesday, December 19 from 6–7:30 p.m. at the Chicago Cultural Center (78 East Washington Street, Chicago).
The panel brings together participants from the Chicago Architecture Biennial working with photography as a medium, including Brown's experimentation in collage as a creative tool and artists in the exhibition Love of the World, curated by Jesus Vassallo as part of Johnston Marklee's broader artistic vision for CAB.
As a document of and commentary on Chicago's unique place in architectural history, photography serves a significant role in connecting contemporary architecture with the past. Considering the Biennial's theme of "Make New History," panel participants will discuss their individual approaches to photography as artists and architects, as well as the relationship of images to the built environment. In conversation with art historian and curator Greg Foster-Rice, the panel reflects upon how photographers in Chicago have also documented real conditions, have turned to the city as a source for abstraction and aesthetic exploration, or have manipulated the photographic image to propose new realities.