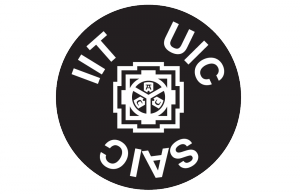 College of Architecture faculty will present "Come To The Table With Chicago Educators" on Thursday, October 29 from 6:30-8 p.m. at the Chicago Architecture Foundation Gallery, 1st Floor. The gallery is located at 224 S. Michigan Avenue in Chicago.
Come to the Table is an installation made of reconfigurable elements that serves as a platform for dialogue. The construct is a framework to engage local architects, artists and thinkers in questioning What is the State of the Art of Architecture Today?
Come To The Table With Chicago Educators
Confirmed Panelists:
Penelope Dean (associate professor, University of Illinois at Chicago)
Vedran Mimica (associate dean, Illinois Institute of Technology)
Ben Nicholson (professor, School of the Art Institute of Chicago)
RSVP here.
Organized by the Chicago Architectural Club (CAC) team: Elva Rubio, Carl Ray Miller, Martin Kläschen, Carlo Parente, Karla Sierralta
This event is free and open to the public. For more information, click here.