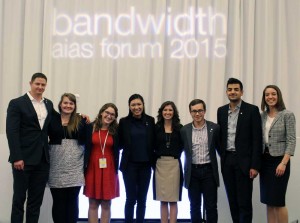 Jeremy Gentile, a fourth year Architecture student (pictured third from right above), has been elected to serve as the 2016-2017 Midwest quadrant director on the National Board of Directors for the American Institute of Architecture Students. Currently serving as the chapter president at Illinois Tech, Gentile will be responsible for representing the voice and interests of students from chapters within thirteen states in the Midwest region. He will be responsible for connecting chapter leaders with one another and working with them to ensure success in the year ahead.
This year the election took place in San Francisco, Calif. during the four-day conference from December 29, 2015-January 1, 2016. Those elected serve a one-year term on the AIAS Board of Directors. During this time the president and vice president relocate to the national office in Washington, D.C. and work as full-time employees of the AIAS.
The newly elected board officially begins their duties on July 1, and will be sworn in during Grassroots 2016. In the six-month lead up to commencing their terms, the board-elect will work closely with their predecessors to become familiar with their role on the board, including a three-day orientation concurrent with the Spring Board of Directors Meeting.
The American Institute of Architecture Students is a non-profit, student-run organization dedicated to programs, information and resources on issues critical to architecture and the experience of education.