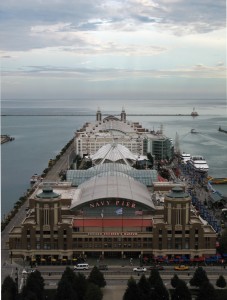 Crown Hall will play host to an exhibit of Navy Pier redesign concepts during the month of February. As Navy Pier's 100th anniversary approaches in 2016, Pier officials seek to redevelop the site's public space to reinvigorate tourism. The Navy Pier competition began in September, drawing worldwide interest, and has winnowed down to five selected finalist teams, which include IIT College of Architecture Assistant Professor Marshall Brown, Studio Associate Professor Martin Felsen, and Adjunct Professor Terry Guen as contributors.
Check out photos of the finalists' designs at the Chicago Tribune.
The finalists will present their complete visions at the Museum of Contemporary Art on January 31 – February 1. A free exhibit at the Chicago Architecture Foundation, as well as satellite exhibits around the city, including at IIT's Crown Hall, will allow the public to take part in the process. The winning design will be chosen at the end of February.
Navy Pier Exhibit
Crown Hall, Lower Core
3360 S. State Street
Chicago, IL 60616
The exhibit will be open starting on Monday, February 6. Exhibit is free and open to the public. Hours: Monday-Friday, 8 am – 6:30 pm