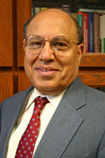 IIT Vice President for International Affairs and Motorola Chair Professor of Chemical Engineering Darsh Wasan has been named a
fellow
of the
American Chemical Society (ACS)
, the society announced in the July 23 issue of
Chemical and Engineering News
. ACS fellows are distinguished scientists recognized and honored for their significant contributions to the science and for providing excellent service to the ACS Community. The 2012 fellows will be honored at the society's fall national meeting in Philadelphia this August, in a ceremony hosted by ACS Immediate Past-President Nancy B. Jackson.
Wasan is specifically honored for his introduction of a novel colloidal stabilization mechanism by discovering the existence of long-range oscillatory structural forces based on studies using the thin colloidal films formed from concentrated nanoparticles dispersion. He also served as chair of the society's Division of Colloid and Surface Chemistry in 2001-2002.
"ACS is especially proud to honor these chemists, who have given so much to the community and the profession," said Jackson in announcing the 2012 class of ACS Fellows. "They are leaders whose work is having a lasting beneficial impact, not just on science but also on the ACS community." Their contributions include outstanding and creative scientific research, superior achievements in the teaching and learning of chemistry, managerial excellence, and volunteer service through meetings and communication with the public, she noted.