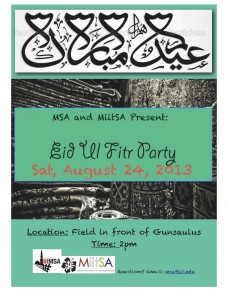 Come one, come all!
Celebrate the end of the Holy Month of Ramadan, by joining the Muslim Students Association and the Malaysian Students Association at their first annual Eid-ul-Fitr Festival. The event theme is "Party/BBQ," so expect a lot of good food and opportunities to socialize and have fun! The festival will be held this coming Saturday, August 24 in the field in front of Gunsaulus Hall.
Families and friends are welcome to join in on the feast. Questions? Please contact msa@iit.edu.
This event reflects the values expressed in IIT's Diversity Statement and is intended to promote diversity at IIT.