Sculptural creations of first-year architecture students from ARCH 114: Architecture Studio 2 are currently on display at the Farnsworth House in Plano, Il throughout the summer. The students, working with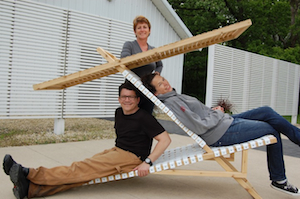 College of Architecture faculty Jill Danly, Kathy Nagle, Coleen Humer, Lukasz Kowalczyk, Alex Paradiso, Paul Pettigrew, and Amanda Williams, were asked to create an object that would provide shade for at least one individual, and could be carried by two people, with the goal of investigating of the relationship between material, form and the human body. Working with just eight cedar 2×4's and a 4×8′ sheet of corrugated plastic, the students designed their creations as an academic exercise, but with the possibility that selected works would be displayed on the grounds of the Mies van der Rohe designed landmark of modern architecture.

Structure: clear system of support and construction
Habitat: site specific architectural space
Activity: design for a determined use/site
Deployment: portability
Efficiency of materials

View images and descriptions of the student projects currently on display by clicking the images below.