On May 12, Google began the process of shutting down the Google Drive for Mac/PC desktop sync clients (hereinafter the "legacy Google Drive"). While the process started on May 12, the Illinois Tech community may not receive the below-listed notification on that exact date because Google predicts the shutdown process will take several weeks to impact all organizations.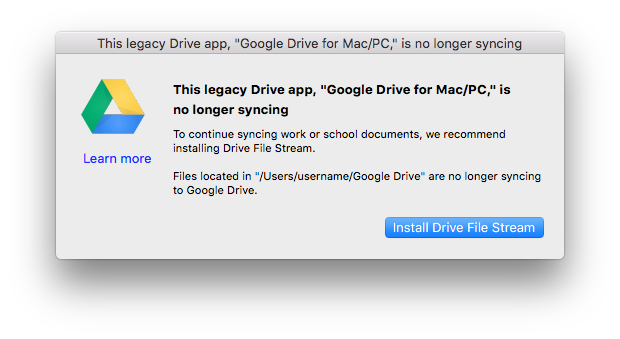 Google will replace the legacy Google Drive with better sync solutions for Drive users, namely, Drive File Stream (the recommended option for people within an organization) and Backup and Sync.
When the legacy Google Drive shuts down, it will stop syncing the Google Drive folder to Google Drive. The local Drive folder, containing your files, will not be deleted, but changes made inside this folder will no longer sync to Drive. We don't recommend editing files inside of this folder after May 12, as it could cause you to misplace your edited files (not realizing that this folder isn't syncing to Drive).
To avoid any confusion, you should have deleted what will be the legacy Google Drive folder prior to May 12. By default, this Google Drive folder is located at:
Windows: "C:\Users\%USER%\Google Drive"
macOS: "/Users/$USER/Google Drive"
Please use caution when deleting this folder, as it may contain content that has not yet been saved or synced.
It is important to note that while at some point on or after May 12 you will no longer be able to access the legacy Google Drive, that does not mean you will lose access to the documents you had previously stored in Google Drive. Since those documents are actually stored in the Cloud, you will only be changing the "channel" through which you access your documents, namely, through Drive File Stream.
At some point on or after May 12, if you sign in to Drive File Stream and the system detects that the legacy Google Drive folder still exists on your computer, you will receive the below-listed dialogue box to alert you that the legacy Google Drive folder is no longer syncing and it will append "(Not Syncing)" to the old Google Drive folder.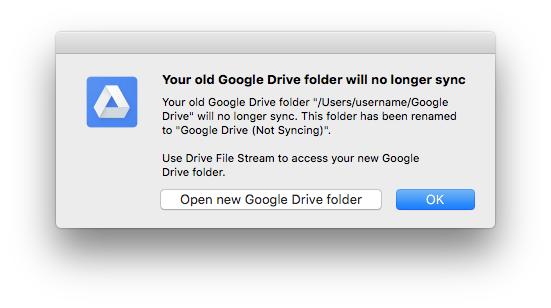 After May 12, if you choose to automate the removal of "~/Google Drive/", you should remove "~/Google Drive (Not Syncing)/" as well. Note that for people who use Drive File Stream in another language, this folder name will be labeled accordingly.
If you have any questions or are experiencing any difficulties with this transition, please contact the Support Desk by calling 312.567.3375 (on campus x7DESK), emailing supportdesk@iit.edu, or stopping by the second floor of Paul V. Galvin Library.