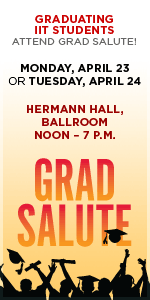 To officially kick off the commencement celebration, all graduating students should attend Graduate Salute on Monday, April 23 or Tuesday, April 24 from noon – 7 pm in the Hermann Hall ballroom. Graduate Salute is an important event that will help you prepare for commencement.
At Graduate Salute you will:
• Pick up your regalia (cap and gown) and guest tickets for the Commencement ceremony. You must present your student ID or other photo ID in order to receive your items. Please note: You can only claim regalia and tickets for yourself.
• Receive information from the Career Management Center on your job search.
• Talk to the IIT Alumni Association and share your IIT Tech Traditions.
• Order your personalized graduation announcements and class ring.
• Have a free portrait of you taken wearing your cap and gown.
Please remember to attend Graduate Salute. For more information about Graduate Salute, visit the commencement website.
If you are unable to attend Graduate Salute on Monday, April 23 or Tuesday, April 24, you can pick up your regalia and guest tickets on the day of commencement, May 12, 2012. Please be sure to check your IIT email account for instructions. IIT will not ship regalia or guest tickets to graduating students in advance of the ceremony.
Questions? Make sure you contact the correct department:
• Undergraduate Student Application questions: ugaa@iit.edu
• Graduate Student Application questions: gradcoll@iit.edu
• Diploma questions: registrar@iit.edu
• Disability Services questions: disabilities@iit.edu
• International student questions: icenter@iit.edu
• Commencement ceremony questions: commencement@iit.edu