The Institute for Food Safety and Health (IFSH) at Illinois Tech is proud to announce Dr. Jason Wan as the recipient of this year's 2023 Darsh Wasan Food Safety Award. This annual award is presented to recognize the achievements of an individual or group in the field of food science and technology who have made outstanding contributions in food safety and health across government, academia, and industry.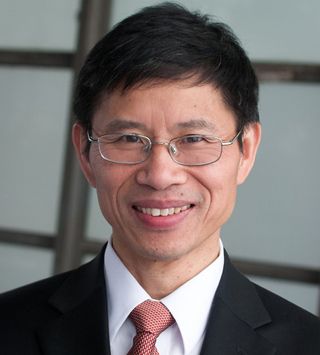 At Illinois Tech, Dr. Jason Wan currently holds the distinguished positions of Associate Director at IFSH, Director of the Center for Specialty Programs, Director for the Food Safety Preventive Controls Alliance (FSPCA), and Professor of Food Science. Dr. Wan's expertise and leadership have significantly impacted the global food industry, making him a deserving recipient of this year's prestigious award.
Dr. Wan began his academic journey receiving a B.S. in Animal Science from Hunan Agricultural University and a M.S. in Food Science from Northeast Agricultural University in China. This was then followed up with a Ph.D. in Biochemistry from Deakin University and a Post-Doctoral Research Fellow at the University of Melbourne in Australia.
Next, Dr. Wan joined the Commonwealth Scientific Industrial Research Organization (CSIRO) in Australia where he was a Senior Research Scientist and Platform Manager in the Division of Food and Nutritional Sciences from 1995–2009 researching in the areas of antimicrobial peptides, molecular microbiology, and nonthermal processing technologies. The CSIRO collaborates with more than 50 sites across Australia, France, Chile, and the United States.
Dr. Wan then began his current tenure at Illinois Tech joining the National Center for Food Safety and Technology in 2009 leading the Education and International Outreach program and was appointed a Research Professor in the Department of Biology.
A passion for research and education are evident by the more than 20 awarded grants in which Dr. Wan has been the Primary Investigator (PI) or co-PI. Most notably, the US FDA Center of Excellence through the National Center for Food Safety and Technology, a one-of-a-kind public private partnership coordinated by IFSH bringing together academia, government, and industry partners collaborating in the area of food safety, food defense, food processing, and nutrition. Other key grants supported the development of the FSPCA curricula in preventive controls for human and animal foods as defined by the US Food Safety Modernization Act, the High-Pressure Research Consortium funded by the US Army, NASA and a number of food manufacturers, the USDA School Lunch Program, and the USDA Food Safety Inspection Service Food Emergency Response Network (FERN) Proficiency Testing grants.
Other honors, awards, and professional activities include Outstanding Volunteer Award and Certificate of Recognition by the Nonthermal Processing Division of the Institute for Food Technologists in which Dr. Wan was the Chair of the Division from 2016–2017. Dr. Wan also participated in various editorial roles such as serving on the editorial board of the Journal of Food Protection from 2012–2015, and as a guest editor for the journals Trends in Food Science and Technology and Food Control.
The 2023 Darsh Wasan Food Safety Award will be presented at the IFSH Annual Meeting Celebrating 35 Years in Collaboration, on September 12, 2023, at the Sheraton Hotel in Rosemont.
Please join us in congratulating Dr. Jason Wan on this well-deserved recognition.