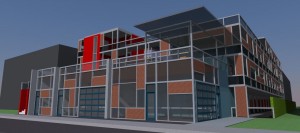 A team of IIT College of Architecture alumni placed second in a design competition for a 20-unit affordable housing complex in California. The "Beyond the Box" team consisted of Matthew Abbott (ARCH ′11), Aric Austermann (ARCH ′11), Ryan Bloom (ARCH ′11), Marcos Guerrero (AE ′12), Mark Swingler (ARCH ′11) and mentor Steve Beck (ARCH ′89).
Winners were announced earlier this year and displayed at the 26th American Institute of Architects (AIA) San Fernando Valley Installation and Design Award Banquet, featured on the AIA San Fernando Valley website as well as on the Toasting Design website.
The competition brief asked for an affordable, multi-unit complex prototype appropriate for the area. There was a multi-pronged mandate to reduce energy demand, construction costs and monthly expenses, as well as to seek alternate revenue generators—all intended to assure affordability. The entry, "Beyond the Box," was intended to reflect the team's conviction that contrary to popular belief, "affordable" design should embrace high quality, community-conscious projects.
Using the applicable Energy Code as the baseline, the building systems designed perform nearly 20 percent more efficiently, reducing demand on natural resources and tenants' monthly utility bills. One juror commented that the design "solved the basic issues and went further with an energy-saving approach for the mechanical and plumbing system." A roof-mounted solar hot water system is intended to take advantage of the San Fernando Valley's climate.
Marcos Guerrero, the lone intern engineer, commented, "What I enjoyed most was processing each others' ideas in an open and supportive environment."
The competition brief required a practicing architect to mentor each team. Steve Beck, adjunct professor of civil, architectural and environmental engineering, Interprofessional Studies and co-principal of the Chicago-area firm CODA LLC, acted as the mentor for "Beyond the Box."
"This team succeeded because they had a healthy team dynamic," Beck said. "The contributions of each member can be seen in this winning design."