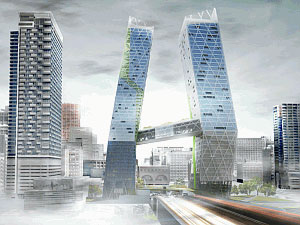 What future do you imagine for your neighborhood? That's the question the Chicago Architecture Foundation asked several Chicago academic institutions, including IIT College of Architecture. The responses will be on display beginning Friday, June 22 in the CAF's newest exhibition, Unseen City: Designs for a Future Chicago, in the lobby of the Santa Fe Building, located at 224 S. Michigan Avenue in Chicago's Loop.
IIT is featured in two projects, "Hi-Rise, Lo-Carb," along with the Council on Tall Buildings and Urban Habitat and Adrian Smith + Gordon Gill Architecture and "Garfield Boulevard: Completely Stripped Naked, Dirty, and Wet," a look at the historic landscape in Chicago's Washington Park through the eyes of Assistant Professor Marshall Brown and 10 graduate students.
The exhibit is open daily from 9 am–5 pm. For more information, visit the CAF website.