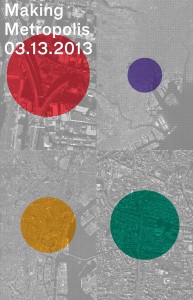 On Wednesday, March 13, IIT College of Architecture will celebrate Mies van der Rohe's 127th birthday, his influence on Chicago, and the investiture of Wiel Arets as the Rowe Family College of Architecture Dean Endowed Chair. Seventy-five years ago, Ludwig Mies van der Rohe arrived in the United States to lead the College of Architecture and profoundly influence the world's taste and built environment. Now the college begins another era of influence as it celebrates the investiture of Wiel Arets.
The events will take place in S. R. Crown Hall. Advance tickets at $50 are required, but entry is complimentary for IIT College of Architecture students, faculty and staff, with registration. Proceeds go toward finishing the restoration of Mies van der Rohe's Carr Chapel. Cocktails and hors d'oeuvres will be served beginning at 5:30 pm with a short video by the Mies Society and Mies biographer Edward Windhorst at 6:00 pm. Free parking is available in lot D1 on 33rd and State Streets.
Register here or call 312.567.5030.