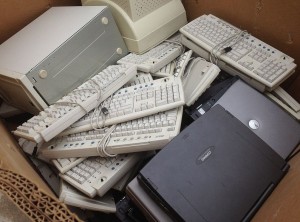 IIT will hold a Community Electronic Waste Collection event from 9 am – 1 pm this Saturday, March 9.  The dropoff location for electronic waste is 3241 S. Wabash Ave., just north of 33rd Street.  Directional signs will be posted along 33rd St, State St., and Michigan Ave.
Please bring any and all unwanted electronics, including: laptops · computers · tablets · televisions · cellphones · printers · monitors · DVD players · video game consoles · scanners · computer mice · fax machines · keyboards · and anything else with a plug!
Disclaimer: It is the responsibility of all parties dropping off electronics to ensure that all data and personal information have been wiped clean and entirely removed from all devices.  IIT will NOT be undertaking such efforts and assumes no liability for the disclosure of any personal information left on devices that are dropped off.
Questions About This Event?  Contact campussustainability@iit.edu
Organized by the IIT Office of Campus Energy and Sustainability with support from the IIT Office of Community Affairs