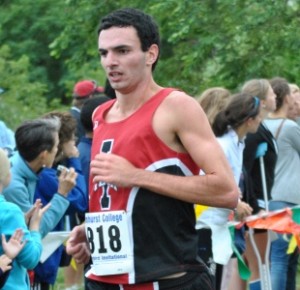 Elmhurst, IL – The 2011 cross country season started off on "a" foot this past weekend despite adverse conditions.  The weather was not runner friendly with temperatures in the 90's, no clouds and noticeable humidity.
Coming off of three solid weeks of training hopes were high amongst the men's team.  Although the end result was a 7th place team finish (out of 16 teams) most of the men expressed some disappointment in their end result.  "A positive tone was taken away from this race.  It helped our team realize that there is a need for continued work.  I am proud the way the men responded to a less than ideal day with average results.  I am glad that they are aiming higher individually and as a team."
Leading the way for IIT was senior Wes Villalobos (Salem, IL).  Mr. Villalobos finished 34th in the team scoring and posted a time of 21:01 over the 6 kilometer distance.  He was followed closely by a flock of Scarlet Hawks.  Kenny Murphy (Anchorage, AK) crossed the line in 37th place (21:06), Zach Gates (Columbus, IN) 38th (21:12), Andrew Montague (Downers Grove, IL) 41st (21:19), Phillip Cano (Palatine, IL) 42nd (21:22) and Sam Wietlispach (Joliet, IL) 48th (21:31).
The Men's next race is this Saturday 9/10 at the Midwest Collegiate Championships in Kenosha Wisconsin.