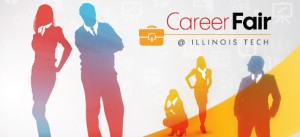 The IIT Fall Career Fair will be held from noon-4 p.m. on Tuesday, September 9, 2014 in Hermann Hall. Students are encouraged to pre-register for the career fair by bringing their current student ID to the McCormick Tribune Campus Center Bridge from noon-3 p.m., September 3-5, 2014 to receive a badge for admission to the career fair.
To view the current list of employers attending the fair, students are encouraged to download the Web app which can be used for smart phones, tablets, and computers. This app will enable users to research employers and know where each employer is located at the career fair. Paper brochures will not be printed for this event. Students should bring a printed list of employers or use smart phones and tablets at the event.
Companies will post job descriptions through Better Weekdays. This is a job-matching tool that matches pre-screened candidates with the companies attending the career fair based on a specific score. To use the service, complete the career assessment and profile here.
For more information, students can contact the Career Management Center at 312.567.6800 or email cmc@iit.edu.