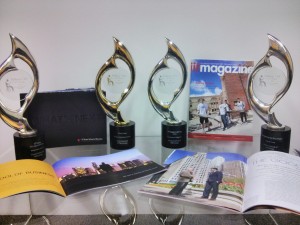 The IIT Office of Marketing and Communications was honored with four awards at the Publicity Club of Chicago's Golden Trumpet Awards banquet on May 30, 2013.  The annual awards honor dis­tin­guished indi­vid­ual achieve­ment in the plan­ning, cre­ativ­ity and exe­cu­tion of pub­lic rela­tions and com­mu­ni­ca­tions ini­tia­tives.
Associate Director of Marketing Jaime Banuelos, Senior Graphic Designer Scott Benbrook, and Editorial Director Chelsea Jackson received a Golden Trumpet in the category of "Brochures, Book­lets or Books" for the IIT Stuart School of Business viewbook, What's Next.
The spring 2012 issue of IIT Magazine and the article from that issue, "Still Fighting the Good Fight," both won Silver Trumpet awards at the ceremony in the Newsletters/Magazines and Feature Stories categories, respectively. Senior Creative Director Nancy Schoon, Editorial Director Chelsea Jackson and Associate Director Marcia Faye received the award for the magazine, and Faye received the award for her article about alumni James Darby (M.Des. '69) and William Lopez (LAW '11) and their work fighting for LGBT civil rights equality.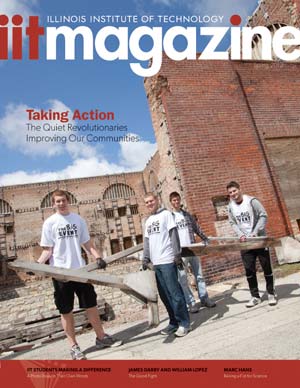 Senior Director of Communications Evan Venie also received a Silver Trumpet in the Social Media/Websites category for IIT Today, the university's news website you are currently viewing.
Projects such as these award winners take not only the talent and hard work of many members of the Marketing and Communications team, but also the collaboration of many others throughout the university. Thanks to everyone who helps our office tell great stories about IIT students, faculty, and alumni and present the university to prospective students and the world with dynamic and engaging print/digital materials.