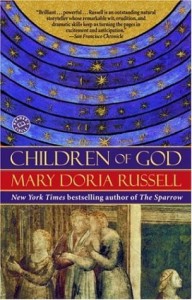 Students, staff, and faculty are invited to join the IIT Office of Spiritual Life and Service Learning's Book Club this Spring. They will be reading the award-winning book Children of God by Mary Doria Russell. Book Club discussions will be held periodically throughout the semester.
Sign up here.
The first 20 students to sign up will receive a free copy of the book, courtesy of the Office of Spiritual Life and Service Learning. Copies will be available for pickup in the Office of Campus Life beginning on Monday, December 1, 2014.
Staff and faculty may purchase copies of the book in the IIT bookstore.
Questions? Contact Lynne Meyer at lmeyer2@iit.edu or 312-567-3160.
This event reflects the values expressed in IIT's Diversity Statement and is intended to promoted diversity at IIT.