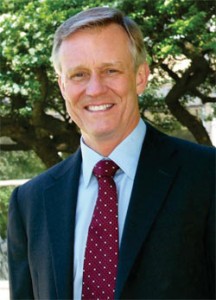 Illinois Institute of Technology President John L. Anderson will be honored with the National Engineering Award from the American Association of Engineering Societies at the association's 33rd annual banquet and ceremony on Monday, April 16, 2012 in Washington, DC.
The National Engineering Award is presented for inspirational leadership and tireless devotion to the improvement of engineering education and to the advancement of the engineering profession, as well as to the development of sound public policies as an engineer-statesman. Past honorees include astronaut Neil Armstrong, former U.S. Deputy Secretary of Energy W. Kenneth Davis, National Academy of Engineering president Charles M. Vest, and Norman R. Augustine, former chairman and CEO of Lockheed Martin and chair of the committee behind the NAE report "Rising Above the Gathering Storm:Energizing and Employing America for a Brighter Economic Future."
Anderson is being honored for innovations benefiting engineering students at Carnegie Mellon University, Case Western Reserve University and Illinois Institute of Technology. The award also recognizes his timely contributions to the engineering profession as a leader of many important National Research Council studies, including those influencing policies.
A Wilmington, Delaware native, Anderson served for 28 years at Carnegie Mellon University in Pennsylvania, holding positions such as chair of the Department of Chemical Engineering, director of the Biomedical Engineering program, and dean of the College of Engineering. Anderson was provost of Case Western Reserve University in Ohio from 2004 until 2007. He joined IIT as president in August 2007. Anderson is a member of the National Academy of Engineering, fellow of the American Academy of Arts and Sciences and the American Association for the Advancement of Science.
Anderson received his bachelor's of chemical engineering degree from the University of Delaware and his master's and Ph.D. in chemical engineering from the University of Illinois at Urbana-Champaign. He served on the faculty of Cornell University in New York for five years before joining the faculty at Carnegie Mellon.