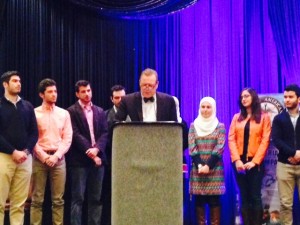 Vice Provost of Student Access, Success, and Diversity Initiatives Jerry Doyle was invited to speak at the Syrian American Medical Society–Midwest Chapter's event on Saturday, November 22. At the event, Doyle accepted the Humanitarian Education Award on behalf of the many staff members and departments at Illinois Institute of Technology who have welcomed and supported the Syrian students at IIT. The Humanitarian Education Award honors the passionate work of the university in advancing access to education around the globe.
Twelve current students and alumni of the Syrian Initiative accompanied Doyle and manager of the initiative Megan Mozina to the event. Illinois Tech has hosted 39 Syrian students to date and graduated the first five students from the cohort in May.
For more information on how you can support Illinois Tech's Syrian students and alumni, contact Megan Mozina at mmozina@iit.edu.
This event reflects IIT's Diversity Statement and is intended to promote diversity at IIT.