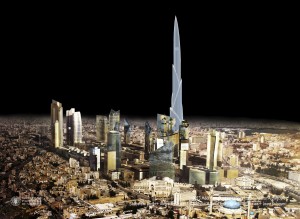 The "AZAHAR Architecture" team, which included IIT student, Alejandro Daras (Master of Architectural Engineering candidate) took the top title of International Skyscraper and Mock Firm Champion at the fifth annual Mock Firms International Skyscraper Competition.
Organized by Chicago Architecture Today, the competition had the theme of "Rediscover the Future." Aspiring young design professionals from all over the world were challenged to conceive, construct and commercialize an iconic super-tall tower with health care, university and residential use for Amman, Jordan.
Daras and four Spanish architecture students of the Polytechnic University of Valencia were advised by David Gallardo, an structural professor of the same university.
Their 1,000m tall skyscraper called Az-Zahr (which means flower in ancient Arabic) was conceived mixing the characteristic geometric patterns of the Arabic architecture with the organic growth of several petals whose shapes determine the final appearance of the skyscraper.