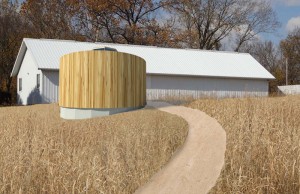 On September 14, 2008 rain poured down on the Fox River valley in Plano, IL, causing the river to spill its banks and flood Mies van der Rohe's Farnsworth House. The flood damaged the house and the furniture within, specifically a large wardrobe that was added to the house at the request of Edith Farnsworth, Mies's client, who wanted a place to keep her clothes. Unlike the other, smaller furniture in the house, the 12' x 6' x 2' wardrobe is too large to be removed from the house in case of another flood. Therefore a need exists for additional exhibition space to display this historic piece of furniture. With the existing visitor center not able to accommodate this large piece of furniture, Whitney French, director of the Farnsworth House sought the help of IIT Associate Professor of Architecture Frank Flury. Flury presented the project to his design-build studio students and over the past two semesters the team has designed an adaptable exhibition space that solves the Farnsworth House's needs of displaying the wardrobe and can also host parties and display other exhibitions.
Design
Early concepts of the design were rectilinear and simple, drawing comparison to the Farnsworth House. After many iterations and critiques from their professor and advice from practicing architects and engineers, the team decided it would be more appropriate to design in the local vernacular, something more similar to the farm buildings that compose the native architecture. Situated about a half-mile form the Farnsworth House, adjacent to the visitor center and visible from the road, a farm building seemed appropriate. Another problem the design team looked to solve was the steeply sloping path to the Farnsworth House that disallows handicap accessibility. In the end the studio designed a contemporary round barn with a new gently sloping path circling the "Barnsworth" on its way to the Farnsworth House. The design is simple and compact, the round floor plan creating a natural exhibition space. The interior walls are segmented while the exterior walls feature vertical board and batten siding to create a continuous curve. The walls are free from openings providing a place to display objects while a simple and elegant lantern sits atop the space to allow the penetration of natural light.
Currently, the team is in the process of submitting permit drawings to secure a building permit for the space, and are fundraising on Kickstarter to pay for the construction materials necessary to construct the building. More info on the "Barnsworth" House website.